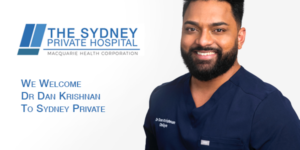 Dr Dan is a well-respected, experienced women's health and Endometriosis Excision Specialist surgeon who's trained and worked in Obstetrics and Gynaecology at some of the most reputable hospitals across Australia over the past decade.
Dr Dan completed his medical degree from The University of Queensland in 2011, following which he spent a year on the Sunshine Coast, QLD completing his internship. His passion for Obstetrics and Gynaecology landed him a registrar position at King Edward Memorial Hospital for Women, Perth. He was selected for Obstetrics and Gynaecology specialist training at St George Hospital, during which he rotated to The Sutherland Hospital, Royal Hospital for Women, Bankstown and Lismore Base Hospitals.
Dr Dan spent two years at the prestigious Sydney Minimally Invasive Gynaecology Surgery (SMIGS) unit, an AGES-accredited fellowship at the Sutherland Hospital where he now holds a staff specialist position. Upon completing his fellowship and obtaining his FRANZCOG, Dan decided to venture further into complex pelvic surgery at Westmead Hospital as a Gynaecological Oncology Fellow. He currently holds a staff specialist position at Liverpool Hospital, where he leads Endogynaecology clinics and surgeries. He also spends a day a week at The Liverpool Cancer Therapy Centre, seeing patients requiring minimally invasive risk-reduction surgery in conjunction with the Gynaecological Oncology team.
Dr Dan was born and raised on a quaint island, Penang in Northern Malaysia. Penangites are all about food! Dan tries his hardest at the gym to counter his passion for food and culinary experiments. Medicine brought Dan to Brisbane, where he met his wife, Dr Komal Kumar, a Developmental Paediatrician, with both public and private appointments in Sydney. Their son Milan keeps them on their toes outside of work. On weekends, you might catch this family of 3 brunching in the inner west as they live on Cadigal and Wangal land.